Sponsored Content: Today's Colorectal Cancer Screening Challenge: Addressing the intersection of COVID-related screening declines, health disparities and a lowered screening age
Sponsored by Exact Sciences
Today's Colorectal Cancer Screening Challenge: Addressing the Intersection of COVID-related screening declines, health disparities and a lowered screening age
Paul Limburg, MD, MPH, AGAF, Chief Medical Officer, Screening and Durado Brooks, MD, MPH, Deputy Chief Medical Officer, Screening
Paul Limburg, MD, MPH, AGAF
Chief Medical Officer, Screening
Exact Sciences
Dr. Limburg holds the academic rank of Professor of Medicine in the Mayo Clinic College of Medicine and serves as Chief Medical Officer for Screening at Exact Sciences. His previous Mayo Clinic leadership roles include Co-Leader of the Cancer Prevention and Control Program, Medical Director for Global Business Solutions, Medical Director for the Office of Health & Well-Being, Physician Lead for Prediction & Prevention in the Center for Innovation, and Research Director for the Healthy Living Program, among others. Dr. Limburg has served on several enterprise-wide committees at Mayo Clinic, including the Management Team and the Clinical Practice Committee.
With respect to his research activities, Dr. Limburg is Principal Investigator for the Cancer Prevention Network, an international, multicenter clinical trial consortium funded by the U. S. National Cancer Institute since 2003. He is a Fellow in the American Gastroenterological Association, an inductee into the honorary American Society for Clinical Investigation, and a member of the Sigma Xi scientific research honor society. His primary research interests include screening innovation, cancer chemoprevention, and molecular epidemiology. To date, Dr. Limburg has published over 140 peer-reviewed articles and 19 book chapters.
Dr. Limburg earned his BA degree in chemistry from Augustana College (Sioux Falls, SD), MD degree from Mayo Medical School, and MPH degree from the Johns Hopkins School of Hygiene and Public Health. He completed his Internal Medicine residency and Gastroenterology & Hepatology fellowship training at the Mayo Graduate School of Medicine. Dr. Limburg also completed an advanced fellowship in Preventive Oncology at the U. S. National Cancer Institute.
Dr. Limburg has received numerous awards and honors throughout his career, including a Cancer Prevention Laurel for Dedication to Community Programs from the Cancer Research and Prevention Foundation of America, a Career Development Award from the National Cancer Institute, and the Karis Award from Mayo Clinic. Dr. Limburg was selected to serve as Chair for the 2013 Frontiers in Cancer Prevention Research Program Committee (American Association for Cancer Research) and is widely recognized for his clinical, research, and leadership contributions in the field of cancer prevention.
$i++ ?>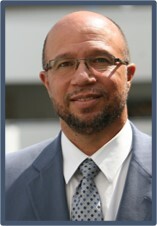 Durado Brooks, MD, MPH
Deputy Chief Medical Officer, Screening
Exact Sciences
Dr. Durado Brooks is the Deputy Chief Medical Officer for the Screening Business Unit of Exact Sciences Corporation, a position he assumed in October 2020.
Prior to joining Exact Sciences Dr. Brooks spent 20 years with the American Cancer Society's national headquarters. During his tenure at ACS Dr. Brooks served in a variety of positions with steadily increasing areas of responsibility, culminating in the role of Vice President of Prevention and Early Detection. Throughout his ACS career Dr. Brooks worked to increase access to high quality prevention and screening and to decrease cancer-related disparities through the design, implementation and evaluation of cancer prevention and early detection programs at the national, state and local levels.
A graduate of the Ohio State University and the Wright State University School of Medi-cine, Dr. Brooks completed his internal medicine residency and chief residency at Wright State's Affiliated Hospitals in Dayton, Ohio, and a fellowship in General Internal Medicine at the University of Texas Southwestern Medical Center. He provided primary care and served as medical director for community health centers in Dayton and in the Community Oriented Primary Care Program at Parkland Memorial Hospital in his current hometown of Dallas, Texas. His experience in these settings led to expertise in areas including disease prevention and health promotion, disparities in healthcare and outcomes, cultural competency of health care providers and systems, and the impact of managed care on vulnerable populations.
Dr. Brooks completed the Commonwealth Fund Fellowship in Minority Health Policy and earned an MPH degree from the Harvard School of Public Health in 1999, and joined ACS after a one-year Senior Health Policy Internship in the Health Resources and Services Administration of the U.S. Department of Health and Human Services.
$i++ ?>
Key:
Complete
Next
Failed
Available
Locked
06/02/2021 at 2:05 PM (EDT) | 45 minutes
06/02/2021 at 2:05 PM (EDT) | 45 minutes